Thirteen Things About Which I Have Something to Say
Roomba Robotic Vacuum. Best thing ever. Mr. Incredible has some floor cleanliness issues, and this has eliminated his complaints regarding dog/cat/Sadie hair on the floor. Every day I come home from work and am amazed at how much hair the thing has sucked up on its daily rounds. Merlin apparently is fascinated by it- Mr. Incredible was home from work for a few days and watched the cat just follow the roomba around. I thought he'd be scared!

Chris Young. He has a new cd. He's the most recent winner of "Nashville Star," he's cute, and his voice is awesome. If you like country music, I highly recommend it.

Revlon ColorStay Soft & Smooth Lipcolor. Professes to be "softer" than other long-lasting lipcolor... This was important to me because my lipcolor always fades and I hate that! But I also hate flaky cracked lips... This stuff is softer, but didn't last any longer than regular lipstick.

Fingernail polish

. Why, oh why, can I not find fingernail polish that will stay on my fingers? I've tried various long-lasting polishes. I've tried basecoat and topcoat and super-duper-strong-never-coming-off coat. It won't stay. Within two days, tops, I've got chipped polish. I don't know what the problem is, I don't have a job that requires a lot of handwashing. I don't do a lot of dishes. It's irksome.

Mark Ruffalo

.

He's so cute. I just wanna hang out with him. "13 Going on 30" and "Just Like Heaven" might not be the films of which he's most proud, but I like them.

Laziness

.

I watch a lot of TV. I also like to spend the weekends on my couch doing as little as possible. But don't act like you're better than me just because you have "so many things to do you just don't have TIME to watch TV," or because you just "can't stand to sit still that long" or if you just "go go go all weekend with so much going on." Good for you, gum popper. To each her own.

Traffic

.

Look. If you're gonna drive around with a license plate that says: CULATER, then I'm going to assume that you are a fast driver. I should be able to trust that I can tuck myself in behind you and you will not slow me down. The irony of a slow driver with such a plate is not amusing when I'm late for work.

Rush Limbaugh. C'mon. You're gonna slam Michael J. Fox? There's just so much to say that I don't even know where to begin. Probably better if I don't.
Jon Stewart

.

I only JUST NOW started watching his show. Someone please tell why I haven't been watching this show for years. How much would I have loved it back in 2000 when I was an idealistic law student hollering about voter's rights, butterfly ballots and hanging chads? Or in 2004 when I was a jaded, disgrunted, frustrated liberal surrounded by conservatives? Better late than never, I guess.
Hiro Nakamura. Hilarious! He is my new best friend.

Manatee. He was just coming to visit me, I guess. Now the Sea World peeps have to figure out how to get him home. Poor little thing. Update: this morning the local news was reporting that the manatee (they're calling him Manny) would be taken to Florida and observed at Sea World to determine if he needs medical attention or can be released into the wild.

Update Update: Manny is missing. They can't find him. Keep your eye out!



Campaign Commercials. Stop the madness! UGH! I cannot WAIT for Election Day so this stuff will stop.


Twins

. Liev Schreiber and Balthazar Getty... Separated at Birth?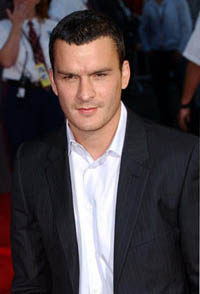 Links to other Thursday Thirteens!
1.
Skeezix
2.
Daphne
3.
Carmen
4.
Merlin
5.
Andria
6.
Chelle
7.
Tracie
8.
Southern Girl
9.
Threads of Gold
10.
Crazy Fat Chick
9.
Colleen
10.
Ali
11.
Cheysuli
12.
Neila
13.
N. Mallory
14. (leave your link in comments, I'll add you here!)
Get the Thursday Thirteen code here!


The purpose of the meme is to get to know everyone who participates a little bit better every Thursday. Visiting fellow Thirteeners is encouraged! If you participate, leave the link to your Thirteen in others comments. It's easy, and fun! Be sure to update your Thirteen with links that are left for you, as well! I will link to everyone who participates and leaves a link to their 13 things. Trackbacks, pings, comment links accepted!

View More Thursday Thirteen Participants